Our highly-successful All-Stars Program has returned for 2023 after a 3-year hiatus. Using this program, we will motivate our visiting guests to spend their money here in Albuquerque, stimulating our local economy and highlighting our exceptional local businesses. We have created window decals that will distinguish a business as a "TourABQ All-Star." Our ticketed guests will be directed to be on the lookout for these decals with the incentive that participating businesses will offer them discounts or incentives. These discounts could be, for example: 10% off, a free item or a complimentary appetizer/dessert.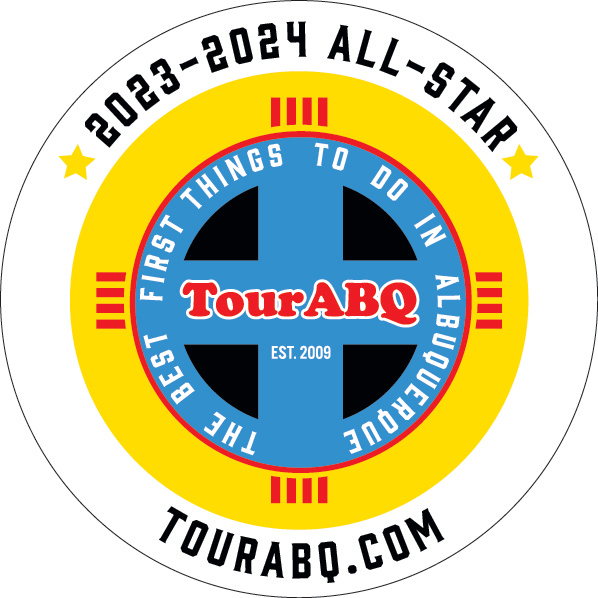 Participating businesses will recognize TourABQ guests by the stickers they receive on all tours. This sticker may be on their person or attached to the TourABQ All-Stars brochure. We know that this incentive program will encourage our customers to seek local establishments that are part of the All-Star network. In order to participate in this program, we ask that you do the following:
Prominently display the TourABQ All-Star decal in the front window of your business. Our customers will be looking specifically for this decal. It is very important that it is highly visible. 
Offer a discount/incentive to all TourABQ customers (minimum 10% if employing a discount). The discount begins March 1, 2023 and must be honored until December 31, 2024. That's right, we will be producing this brochure and seeking new applicants every two years.
Participating businesses must give TourABQ $250* in payment and also a minimum of $250* worth of merchandise/gift cards/certificates to be used to verbally promote your business on select tours. These prizes are highly desired by guests and are a great promotion for your business.
*Not required for advertisers spending $500 or more with TourABQ. Merchandise giveaways are not required at this level but they are highly encouraged to further promote your business. 
Click here to see the list of past TourABQ All-Star Businesses.
Select information you enter below will be displayed on tourabq.com and in the TourABQ All-Stars brochure received by all tour guests.
---
An invoice will be generated shortly after receipt of All-Star Form Listing.
Please mail checks to
TourABQ All-Star window decals will be delivered after receipt of payment and collection of merchandise. Please contact us with any questions.
NOTE: The TourABQ All-Stars Program is not the same as TourABQ Advertising. 

Photos: (bottom) 9 years worth of All-Star stickers proudly displayed at Old Town Emporium. (Center) 2010 & 2011 Trolley-Friendly window decals displayed at Gertrude Zachary Jewelry & Antiques in Nob Hill. (Right) The staff at Gertrude Zachary Jewelry in Old Town proudly displaying their Trolley-Friendly decals.