Choose Showtime to Buy Tickets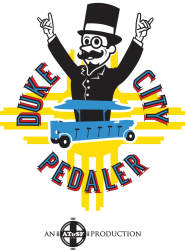 A TourABQ Production
Duke City Pedaler | Sawmill Pub Crawl
A Pedal-Powered Party on Wheels!
Must be 21 years of age with valid ID to attend
Ages: 21+ Ages Price: $25 - $30
This Event Has Ended
The Duke City Pedaler is a 14-passenger party bike that cruises the streets of ABQ making stops at local pubs, breweries, bars and restaurants. It's an eco-friendly, pedal-powered party on wheels! Take a cruise through Al-BREW-querque to enjoy some of the best local suds in the Southwest! No need to care about calories when you're on the party bike - earn that pint!
This 2.5-hour beverage tour of Old Town/Sawmill Albuquerque features three stops at Sawmill area and Old Town Plaza watering holes (including Sawmill Market, Ponderosa Brewing Co., The Taproom at Old Town, Ezra's Taste of Home, Downshift Brewing, Noisy Water Winery and Sheehan Winery Tasting Room).
Because we are visiting drinking establishments, guests must be 21 years of age with valid ID to attend.
Fast Facts:
Departs from the Historic Old Town Plaza (directly east of the Plaza Gazebo).
Buy tickets online, via phone at (505) 200-2642 or in-person at the TourABQ Box Office inside Old Town Emporium (204 San Felipe St NW 87104).
Tour lasts approximately 2.5-hours.
Buy tickets online or via phone at (505) 200-2642.
Drinks not included in ticket price.